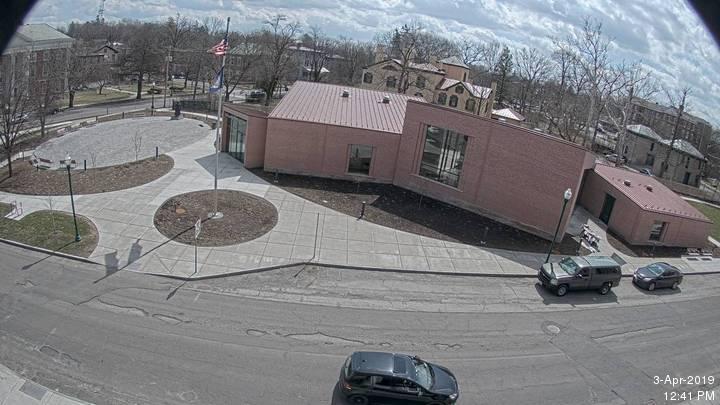 NYS Equal Rights Heritage Center
25 South Street, Auburn, NY
Phone: 315-258-9820
NOW OPEN
Hours:
Monday-Friday 9am - 5pm
Saturday-Sunday 11am - 4pm
Please note the center will be closed Thanksgiving Day.
The center will be open Saturday, November 24th from 11am - 8pm during the Downtown Holiday Parade and Tree Lighting.
---
Public Notice:
Upper Levels of Downtown Parking Garage Will Offer
Free Parking Until January 6, 2019
As a way to say thank you to the downtown merchants and customers during the holiday season the upper levels of the City of Auburn Downtown Parking Garage will offer free unlimited parking from now through January 6, 2019.
"Downtown Auburn saw a lot of progress this year and we would like to thank all of the downtown merchants and their customers for your patience during construction," stated Mayor Quill.
Infrastructure improvements will continue this week on the intersection of Lincoln Street and William Street. Once this work is completed Lincoln Street will reopen to 2-way traffic through the spring of 2019. In the spring of 2019 final paving and site work on Lincoln Street and William Street will resume.
"This is great news for our Downtown," stated Stephanie DeVito, Executive Director of the Auburn Downtown Business Improvement District, "Our parking garage is a great asset to our businesses and having free upper level parking through the holidays will provide a nice incentive for people to visit downtown."
Media Release, November 1, 2018
Taste NY Seeks Local Producers for New Market in Downtown Auburn
The new NYS Equal Rights Heritage Center (NYS ERHC) opening this fall in downtown Auburn will host a Taste NY Market that will feature locally produced products from Auburn, Cayuga County, and the region. A project of the City of Auburn, the NYS ERHC will open mid-November 2018. Earlier this year the City finalized an agreement with the Cornell Cooperative Extension of Tompkins County to operate the Taste NY Market.
The Taste NY program is the official eat-local, drink-local program for New York State overseen by the NYS Department of Agriculture and Markets. Taste NY, launched by Governor Andrew M. Cuomo in 2013, highlights the quality, diversity, and economic impact of food and beverages grown, produced, or processed in New York State. Taste NY aims to create new opportunities for producers through events, retail locations, and partnerships.
The mission of the Taste NY Market at the NYS Equal Rights Heritage Center is to showcase and promote New York-made products, the store will feature a rotating selection of local products from the Cayuga County area while supporting agriculture and small businesses across the state.
The Cornell Cooperative Extension is looking for local producers of food items including but not limited to honey, maple, dairy, baked goods, jams and jellies, pickles and other fermented items, sauces and condiments, flours and mixes, non-alcoholic beverages, candy, and other treats, as well as non-food items like pottery, aprons and sewn goods, knitted items, soaps, candles, and other creative products.
Local producers interested in working with Taste NY at the NYS ERHC should contact Debbie Teeter at Cornell Cooperative Extension of Tompkins County,
DLT22@cornell.edu
or 607-272-2292, for more information and vendor application packet.
Job Posting, October 2, 2018
The NYS Equal Rights Heritage Center, located at 25 South Street in downtown Auburn, NY is hiring part-time and seasonal
Operations Team Members
for the opening of the NYS Equal Rights Heritage Center in the fall of 2018. Come be part of Auburn's new premier attraction that will serve as the hub for all of our historic, cultural and tourism sites. We're looking for passionate, hard-working, enthusiastic people that love helping others and ensuring their experience visiting Auburn is the absolute best possible. We love Auburn, we love NY, we love what we do and have fun doing it!
Click here to download the job posting PDF.
Volunteer opportunities.
For immediate release October 22, 2018
Call for Tourism Ambassadors for the NYS Equal Rights Heritage Center
Join the premier volunteer team at the New York State Equal Rights Heritage Center opening this fall in Auburn.
Auburn – The New York State Equal Rights Heritage Center (NYS ERHC) seeks volunteer Tourism Ambassadors. This is a premier opportunity for those passionate about History's Hometown and eager to play a vital role in bringing the area's historical and cultural legacies to life.
Tourism Ambassadors will be at the epicenter of all events and attractions throughout Auburn, Cayuga County, and New York State, and in the unique position to inform, involve, and inspire visitors to understand why this place matters. The Center seeks individuals who are energetic and enthusiastic about promoting local history and entertainment, and ready to provide each visitor with the highest level of customer service.
A variety of duties will be needed, including but not limited to greeting the public, conducting tours, assisting with special events, data entry, social media, and brochure organization. Volunteer placement will be made based on an individual's interests, experience, abilities, and availability.
Project site and contractor emergency contacts
click here
.
Latest Construction News:
Media Release (May 4, 2018):
Mayor Quill and NYS Parks Commissioner Harvey Announce:
The NYS Equal Rights Heritage Center Project Description:
Construction of the new NYS Equal Rights Heritage Center in downtown Auburn will begin in February 2018. As part of Governor Andrew Cuomo's Central New York Upstate Revitalization Initiative, this investment of $10 million will create over 100 construction jobs and will support and boost upstate New York's tourism industry. The center is scheduled to open in October 2018. The project will result in the following downtown revitalization investments:
Construction of the new NYS Equal Rights Heritage Welcome Center that will have 3 main components: ~I Love NY Equal Rights Heritage Tourism Promotion Center; a Taste NY Market; and a local tourism promotion/visitor information center for Auburn, Cayuga County and the region.
Reconstruction of Lincoln Street to increase pedestrian safety and accessibility at the William Street and South Street intersections designed to make a strong pedestrian connection between downtown and the historic district.
Security and signage upgrades to the site and the downtown parking garage.
The facility will house the offices of the Cayuga County Office of Tourism, the Auburn Downtown Business Improvement District and the Auburn Historic & Cultural Sites Commission.


NYS Equal Rights Heritage Center Site Plan:
NYS Equal Rights Heritage Center Contractor List
Design Contractor, nARCHITECTS, Brooklyn, NY
General Contractor, FAHS Construction Group, Binghamton, NY
Construction Inspection, Popli Design Group, Syracuse, NY
Electrical Contractor, J & E Electric, Auburn, NY
Plumbing Contractor, Siracusa Mechanical, Inc., Auburn, NY
Mechanical Contractor, HMI Mechanical Systems, Waterloo, NY
Exhibit Construction Contractor, Hadley Exhibits, Inc., Buffalo, NY

Other Links:
View the Governor's announcement here:
NY.gov
Media contact: Please contact Chuck Mason, City Clerk, Memorial City Hall, 24 South Street, Auburn, NY 13021. ph: 315-255-4100